::: THIS GIVEAWAY IS CLOSED :::
We hate to see you go so take a look around or email us and we'll get you the info you're looking for!

WIN A MINI BRAND PACKAGE!!
We want to give you the ultimate Christmas gift!
Start off the new year with a cohesive brand foundation that will help your business thrive in 2020.
Contest Entry Dates
December 13, 2019 – December 31, 2019 (11:59 pm)
Qualifications
1. Applicant must be the owner
2. Must already have a company name
3. Established product/service
What's Included
1. Brand Style Board
2. Logo Design (main logo, alternative logo, sub mark and two rounds of revisions)
3.  Typesets (main and complementary font)
4. Color Theory (2 main colors, 2 complementary colors)
5. Files Of All Designs Created (CMYK, RGB, PNG, JPG, VECTOR)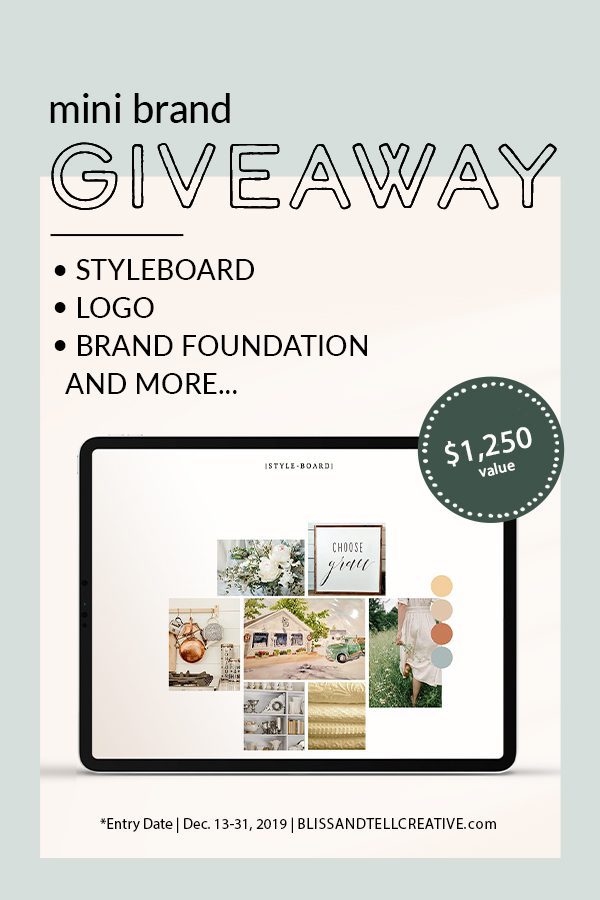 If you'd like to work with Bliss and Tell Creative, we'd love to set up a first call. Please tell us a little bit about your business and goals…inquire below…
follow along for freebies + helpful business tips
book a first call
Every business is one-of-a-kind; each project we take on is unique. Book a first call so we can assist your specific design needs. Reach out.