I graduated with a Fine Arts degree 10 years ago. To some, that might not seem like a long time, but to me, it's a lifetime. As the years have gone, I'll admit, I have abandoned my craft. I used to live in the basement of the Fine Arts building on campus. Painting, creating pottery, drawing, attending art shows, I lived and breathed all things art. I couldn't wait to sign up for as many art history classes as I could pack in. The smell of oil paint, mixed with the smoke smell of the kiln firing is still imprinted into my senses.
Fast forward to years later, and it's easy to understand how I use the skills I learned in art school in my day-to-day work at Bliss and Tell. Balance, color theory, space, design, these guidelines run through my head constantly. I absolutely love what I do. Being able to help small businesses is a passion, and I get so much joy seeing them flourish. Great design is everywhere. The "competition" is endless. It is so easy to just say, the niche is full, what else can I do here? But that is a horrible way to think. Each of us brings something to the table, and our designs, no matter what we create, are worth showing.
This brings us to the creation of the shop at Bliss and Tell Creative.  Heidi and I decided we couldn't let a business opportunity go undeveloped.  We have curated a little illustration print shop, mixed with digital social media content for download. You will find part of the shop has Instagram Story Templates ready for download and can be use to help elevate and customize your business on social media. There are also custom illustrations by me, Bekah. I have mixed old sketches with digital accents, blending my two worlds.
We will be curating the shop over the next few months, adding more product options, and targeting more design styles. More than anything, we hope you find a product that will speak to you, and will bring meaning to your online presence, or within your homes and offices. Happy Shopping!
And I could still draw.
Nothing had lessened it as much as I had abused it, abandoned it.
It was a gift, and it was still mine.
– Great Expectations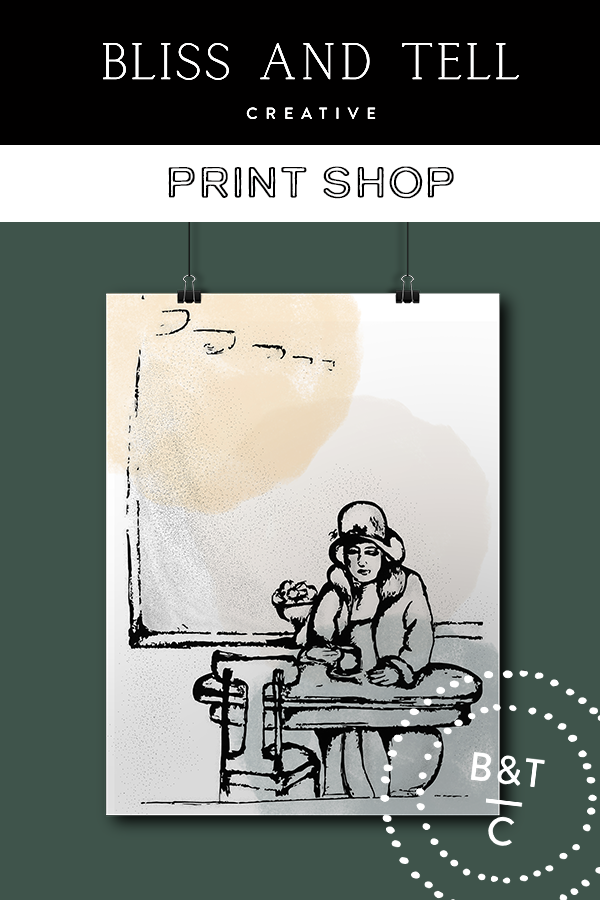 If you'd like to work with Bliss and Tell Creative, we'd love to set up a first call. Please tell us a little bit about your business and goals…inquire below…
follow along for freebies + helpful business tips!
Book A First Call
Every business is one-of-a-kind; each project we take on is unique. Book a first call so we can assist your specific design needs.